Joel Hokkanen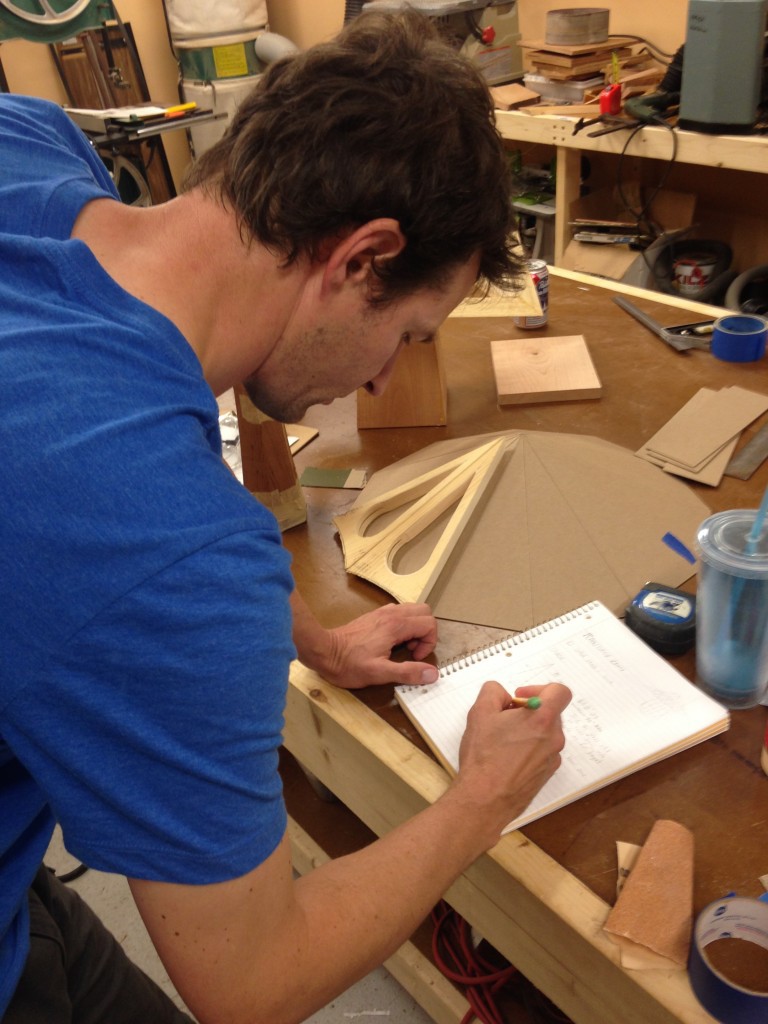 Joel A. Hokkanen is an artist and woodworker in Rockport, Maine.  He  has been working with wood for over twenty years, ranging from fine furniture, wood sculpture, and custom home trim work to his current work with fine art lamps.
Joel grew up in Maine, spending as much time as possible outdoors in the woods, mountains, and on the water.  He developed an appreciation for the natural beauty here in Maine which has continued to be an inspiration.  After high school Joel studied ecology and zoology at Connecticut College, exploring the interconnection between his two main interests – art and science.  Finding connections between the fields of art and science has been a passion and life-long pursuit.
Joel studied architecture briefly at the Rhode Island School of Design, and worked after college as a wildlife biologist for the U.S. Fish and Wildlife Service in Hawaii.  He eventually settled in California and attended U.C. Davis Veterinary School.  It was during veterinary school that he first began doing significant work with wood, enjoying finding ways to apply his surgical training to detailed sculpture and woodwork.  There was a renewed popularity of the Arts and Crafts movement in California during that time, and Joel found the simple elegance of this style appealing.
In 2000 Joel moved back to Maine to begin veterinary practice, and on the weekends began experimenting with combinations of wood, glass and light in various forms of art and sculpture.  Drawing on the beauty and versatility of wood to create natural-feeling organic forms and a rich color palette of art glass, Joel's work began to focus on the use of illumination to project the feel of a piece out into the world.
The style of his work has evolved over time into a unique balance of organic curves and symmetry, mostly inspired by forms in the natural world.  The transition from veterinary work to woodwork has been gradual and in 2015 became complete.  Joel now works exclusively at woodworking, currently focusing on fine wood and glass lamps.

A Statement from the Artist about his Materials
Woods: I am choosy about the woods I put into my projects. Fortunately we have here in New England some of the most beautiful hardwoods in the world, growing in our forests and backyards and often lining our streets. A little searching can turn up the exceptional grain patterns of curly maple, birdseye, and burls. And we have a great color palate to work with as well, from the light Sugar Maple to  American Cherry, and darker Black Walnut. I salvage great wood whenever I can find it. An early ice storm in November 2014 damaged trees throughout midcoast Maine. Sadly many big beautiful old trees were lost, but I was able to salvage a supply of incredible hundred-year old maple from a blowdown which narrowly missed the workshop!
Glass: Most of our glass comes from top American art glass makers Uroboros and Yougiogheny. I am always looking for bold and unusual patterns in glass, and I often try to represent colors and patterns from the natural world in my work. We have just recently added a kiln to the workshop and are experimenting with making our own glass panels – this is a fascinating art with endless exciting possibilities for our lighting projects.
Finishing: I use finishes and techniques that highlight the wood's unique natural features, bring out the beauty of the grain and the full richness of the natural color. Typically deep-penetrating, hand-rubbed finishes like oils and oil-varnish blends best achieve these effects. These finishes can be time-consuming to apply, requiring multiple applications, but the end result is always well worth the work. I generally avoid film finishes, which build up on the surface of the wood and rarely use stains or dyes.